Ob-GynPAC is ACOG's federal political action committee (PAC) and an integral part of the ACOG's efforts to win legislative and political victories for our specialty. Ob-GynPAC is the only national PAC in Washington, D.C., representing ob-gyns before Congress. Ob-GynPAC educates Members of Congress about issues that are important to our specialty and helps elect candidates to the U.S. House of Representatives and Senate who support us on our issues.
---
 2020 Legislative Update- Adrienne D. Zertuche, MD, MPH, FACOG, Co-Chair, GOGS Legislative Committee
To coincide with the kickoff of the Georgia General Assembly 2020 Session, I am excited to announce some promising changes to the Georgia OBGyn Society's (GOGS') legislative and advocacy efforts.  For many years, our work at the Gold Dome has been spearheaded by our Legislative Chair Dr. Andy Toledo and Co-Chair Dr. Carla Roberts and implemented by our lobbyist Skin Edge and former executive directors Pat Cota and Daniel Thompson.  This Session, we are fortunate to have Skin Edge continuing to lobby on our behalf, but he will be joined by our new executive director, Kate Boyenga, and directed by an entire team of physician leaders. 
In order to ensure our organization's advocacy efforts are representative of our diverse members – and sustainable for years to come – we recently instituted a GOGS Legislative Committee.  This team of eleven physicians meets in-person quarterly and by phone as often as needed during the Session.  We are led by Co-Chairs Dr. Andy Toledo and Dr. Adrienne Zertuche and include representation from GOGS leadership, ACOG Georgia Section leadership, the Medical Association of Georgia (MAG), the Patient Centered Physicians Coalition (PCPC), Young Physicians, and Junior Fellows (in practice and in training).
The GOGS Legislative Committee's primary focus during the 2020 Session will be to continue efforts to improve Georgia's maternal mortality and morbidity rates.  Georgia's 2019 House Study Committee on Maternal Mortality – of which GOGS Advisory Board Members Dr. Jane Ellis and Dr. Chad Ray were members – recently released several recommendations regarding this endeavor.  First on their list, and at the forefront of ACOG advocacy efforts nationally, is postpartum Medicaid extension. 
Data from Georgia's Maternal Mortality Review Committee (MMRC) demonstrates that 73 percent of maternal deaths in Georgia occur during pregnancy or the first 6 weeks postpartum; the remaining 27 percent occur between the sixth week and one year postpartum.  However, Medicaid coverage – which is responsible for more than 50 percent of Georgia deliveries – ceases 60 days after delivery.  Extending comprehensive service provision to a full year may decrease delayed postpartum maternal mortality and morbidity, especially that related to cardiovascular disease, cardiomyopathy, overdose, and suicide. 
Therefore, in accordance with ACOG and the House Study Committee's recommendations, the GOGS Legislative Committee will pursue postpartum Medicaid extension at the capitol this Session.  Although it is expected to be a tight budget year, we will also fight to ensure appropriate Medicaid reimbursement rates for our obstetricians that tirelessly care for our highest risk pregnant and postpartum women.
Another legislative issue that the GOGS Legislative Committee will be monitoring closely this Session is that involving the licensure of certified professional midwives (CPMs, i.e. "lay midwives").  GOGS certainly has an interest in expanding access to obstetric services, particularly in our state's rural shortage areas.  However, it is critical that any midwife seeking to provide maternity care to Georgia women meet minimum education and training standards.  While certified nurse midwives (CNMs) meet and often exceed these standards, CPMs traditionally do not.  The Legislative Committee will thereby scrutinize any legislation proposed this year to ensure appropriate education and training stipulations for any CPMs pursuing licensure. 
Finally, the GOGS Legislative Committee looks forward to supporting medical liability reform legislation this Session.  In an increasingly litigious society, it is critical that steps be taken to control professional liability costs and improve stability within our healthcare delivery system.  The field of obstetrics is particularly vulnerable to litigation, and Georgia may begin to curb the attrition rate of early- and mid-career obstetricians if progress is made at the capitol on issues such as caps for noneconomic damages.  The Medical Association of Georgia (MAG) is also passionate about reform, and we look forward to collaborating with them this Session.
While the GOGS Legislative Committee only has space for eleven members, there is plenty of room for GOGS members to become engaged in advocacy efforts in other ways.  We encourage you to:
Attend the Georgia Patient Centered Physicians Coalition "Day at the Capitol" on March 5, 2020 and/or the ACOG Congressional Leadership Conference (in Washington, D.C.) from March 8 to 10, 2020
Sign up to serve as the "Doctor of the Day" for the Georgia House of Representatives
Get to know your state legislators and keep them informed on GOGS' legislative priorities
Donate annually to the GOGS' GynPAC
Request PAC funds for a candidate committed to improving women's health and healthcare
Contact the GOGS Legislative Committee with suggestions for legislative priorities, advocacy strategies, or anything at all
Thank you, GOGS members, for staying engaged in our efforts to improve the health and healthcare of the women of Georgia.  Our committee looks forward to serving you!
---
2019 Legislative Summary – Andy Toledo, MD, Legislative Committee Chair
The best way I know to describe the 2019 General Assembly is "roller coaster."  The OBGyn Society was successful once again in obtaining approval for several budgetary items.  However, as has been widely reported in local and national news, the "Heartbeat bill" gained final passage by the General Assembly, a bill the OBGyn Society strongly opposed.
Budgetary Success
The OBGyn Society successfully advocated for several specific budget items that were not included in the Governor's budget recommendation.
Full state funding for every existing OBGyn resident position in Georgia – a total of 54 slots at a cost of $828,042. The OBGyn Society has been previously successful in obtaining funding for some of the slots, but this year we asked the General Assembly to fund all of them – and they agreed with our request.
$200,000 for nurse abstractors for the Georgia Maternal Mortality Review Committee to improve capacity for review of maternal death records.
$1,047,540 for a maternal telepsychiatry program. This program was championed by Healthy Mother's Healthy Babies Coalition of Georgia and supported by GOGS, Emory University, March of Dimes, and the Department of Public Health.
Thank you to Skin Edge from Georgialink Public Affairs for his assistance with obtaining support for these critically-needed funding items to advance the quality of women's healthcare.
Other Budgetary Items to note:
$500,000 for Morehouse School of Medicine to establish a Maternal Mortality Prevention Research Center of Excellence.
$500,000 for funds to county health departments for feminine hygiene products for low-in
come clients.
The Fetal Heartbeat Bill – HB 481
As I mentioned earlier, House Bill 481, sponsored by Representative Ed Setzler (R-Acworth), known as the "Fetal Heart Bill" or the "Heartbeat bill" passed the General Assembly this session with Governor Kemp's support.  Georgia is the 5th state to pass such a bill after North Dakota, Kentucky, Iowa, and Mississippi have done so earlier this year.  So far, no court has agreed that these bills are constitutional, and the US Supreme Court has yet to hear a case.   The bill prohibits abortions after detection of fetal heart tones.  Supporters of the bill say this can be as early as 6 weeks gestation.  The bill includes several exceptions: if the pregnancy threatens the life of the woman (emotional or mental conditions that serve as a threat to the woman's health are not considered exceptions), if the physician determines the pregnancy is "medically futile," or if the woman was a victim of rape or incest and files a police report alleging her claim.
The OBGyn Society took an early position in opposition to the bill due to increased opportunities for physician criminalization, the scientific inaccuracies that support the goal of the bill and the overall infringement on a physician's ability to practice the full scope of medicine under the law.  The Society testified in opposition to the bill in the House and Senate committee hearings, and lobbied against the bill.  I'd like to thank the other physician associations who opposed the legislation: Medical Association of Georgia, Georgia Academy of Family Physicians and American Academy of Pediatrics Georgia Chapter.  In addition, I would like to thank our members who reached out to their Representatives and/or Senators to register your concerns with the bill.  You are the women's healthcare experts and your input on matters concerning women's health policy is vitally important to our profession.
For OBGyn physicians in Georgia, there is no impact of this bill in the near term.  Without a court challenge, the bill does not go into effect until January 1, 2020.  However, a lawsuit will be filed by the American Civil Liberties Union, which will very likely delay the bill becoming law – or potentially stop it from ever becoming law.  As of the writing of this article, Governor Kemp has not signed HB 481.
Other bills approved by the General Assembly:
HB 345 by Representative Sharon Cooper (R-Marietta) to prohibit shackling of pregnant inmates.  GOGS supported this legislation.
HR 589 by Representative Mark Newton (R-Augusta) to establish the House Study Committee on Maternal Mortality.  GOGS supported this legislation through committee testimony and worked with Representative Newton to require two representatives from the Maternal Mortality Review Committee serve as members of this study committee.
HB 321 by Representative Jodi Lott (R-Evans) to reauthorize the Hospital Provider Payment Agreement.  This legislation extends the sunset for a funding mechanism that funds the Georgia Medicaid program until June 30, 2025.  Without this mechanism in place, the Georgia Medicaid budget would likely face steep cuts in reimbursements to hospitals and healthcare providers.
HB 187 by Representative Katie Dempsey (R-Rome) creates a pilot program within the State Health Benefit Plan (state employees and teachers) to treat and manage obesity.
HB 324 by Representative Micah Gravely (R-Douglasville) to allow for the production, manufacturing and dispensing of low THC oil.
SB 106 by Senator Blake Tillery (R-Vidalia) to authorize Governor Kemp and the Department of Community Health to apply for Medicaid waivers to extend Medicaid coverage to individuals up to 100% of the federal poverty limit.
SB 115 by Senator Renee Unterman (R-Buford) to create a Georgia physician license category for physicians in other states to utilize telemedicine for patients in Georgia.
Other legislation: 
SB 267 by Senator Lester Jackson (D-Savannah) proposes to license "Certified Community Midwives" in the care of women in prenatal care and delivery of the baby, which would could occur in an out of hospital setting.  GOGS is in opposition to this legislation, which cannot be considered until the 2020 legislative session.
SB 279 by Senator Jen Jordan (D-Atlanta) would prohibit pelvic examinations on an anesthetized patient without the patients informed consent.  GOGS is monitoring this legislation.
HB 717 by Representative Karen Mathiak (R-Griffin) would establish licensure for "Certified Professional Midwives."  This legislation is very similar to SB 267 and GOGS opposes it as well.
It was certainly a trying session, but we are fortunate to continue being successful in advocating for state support for women's health.  We have a lot more work that needs to be done between now and 2020.  Please continue to build relationships with your elected officials and always support GynPAC when you renew your membership each year.
We had a solid turn out for legislative day in February with over 40 OBGyn physicians and residents despite it being scheduled during CREOG.  Please plan to join us next year at the Capitol on March 5th, 2020!
---
Learn more about Ob-Gyn issues on the state level in 2018 and what GOGS is doing about them.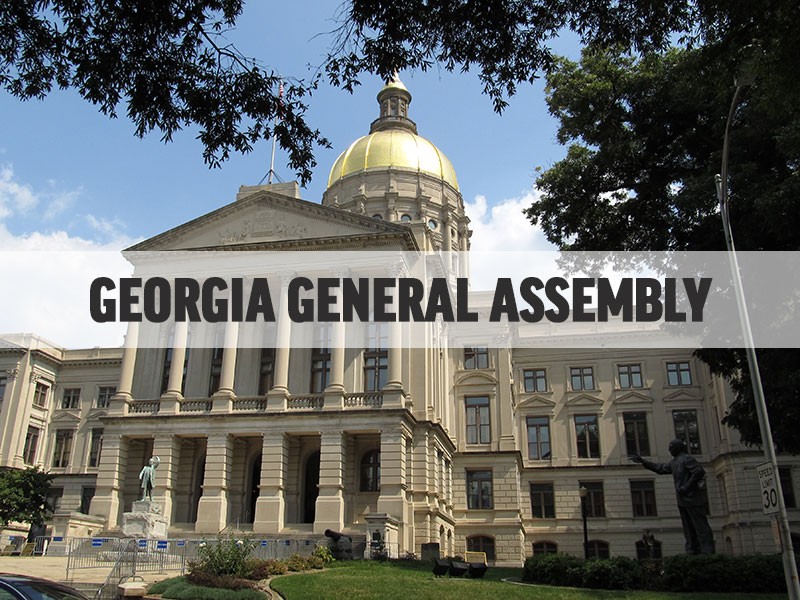 Catch up on legislation passed in 2018 that affects your practice. Dr. Andy Toledo recaps the General Assembly.
---
Our highlight album for Georgia OBGyn's 'Doctor's Day at the Capitol' for 2018, taking place February 15th, 2018. Special thanks to all our physicians and members who attended.
---
Ob-GynPAC is ACOG's federal political action committee (PAC) and an integral part of the ACOG's efforts to win legislative and political victories for our specialty. Ob-GynPAC is the only national PAC in Washington, D.C., representing ob-gyns before Congress. Ob-GynPAC educates Members of Congress about issues that are important to our specialty and helps elect candidates to the U.S. House of Representatives and Senate who support us on our issues.
---