Sun

Mon

Tue

Wed

Thu

Fri

Sat

September

September

September

September

1

ICD-10 Coding Goes Live

The official implementation date for ICD-10 coding. The federally mandated transition from ICD-9 to ICD-10 pertains to all HIPAA-covered entities including providers, payers, vendors and their business associates. Claims submitted for services rendered on or after the compliance date that do not contain the ICD-10 coding will be pended, denied or rejected. Payments to providers cannot be made without the proper ICD-10 coding.

2

3

4

5

6

HMHB Annual Meeting and Conference

Gwinnett Technical College, Sugarloaf Parkway, Lawrenceville, GA, United States

Mark your calendars for the 2015 Healthy Mothers Healthy Babies Annual Meeting and Conference, October 6, 2015, 8 am – 4 pm at Gwinnett Technical College, Busbee Center, 5150 Sugarloaf Pkwy, Lawrenceville, GA 30043. This year's theme is "Maternal and Child Health Disparities: What Does the Research Say?" Early registration is $85 by 9/18/15. For additional information, call 770-451-0020 or email ayanna.rutherford@hmhbga.org. To register, visit:

http://www.hmhbga.org/en/2015-annual-meeting-and-conference-registration

.

7

8

9

10

11

12

13

14

15

16

17

18

19

20

21

22

23

24

25

26

27

28

29

30

31
Save The Dates
GOGS' comprehensive list of education and events for ObGyns from around the state of Georgia.
1
1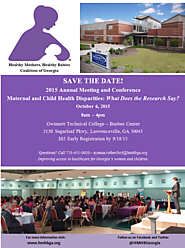 2
2

ICD-10 Transition Webinars from GA DCH
The Georgia Department of Community Health is offering webinars to help practices transition to ICD-10. The deadline to implement ICD-10 coding is October 1, 2015. Take advantage of the additional time to practice the new code set, educate staff and ensure total preparedness. Register today for upcoming webinars to prepare for all that ICD-10 entails.
3
3
ACOG District IV Annual Meeting
Save the date for ACOG Districts I, III and IV's combined Annual Meeting, October 9-11, 2015 at the Sheraton Boston Hotel, Boston Massachusetts. For additional information, visit site.
4
4
CPT Coding Seminar
The CPT Coding Seminar will take set Friday, December 4th at The Atlanta Marriott Buckhead Hotel & Conference Center, located at 3405 Lenox Rd, NE
Atlanta, GA 30326.
5
5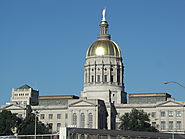 Legislative Day at The Capitol
Legislative Day at The Capitol is scheduled for Thursday, February 11th, 2016.
6
6
GOGS 2016 Annual Meeting is to take place Thursday, August 25 - Sunday, August 28, 2016, at The Cloister, Sea Island, GA. Registration requests and/or general inquiries can be directed to Beth Yoder at byoder@gaobgyn.org.
7
7
Move for Moms 2015 - 5K Race
Join Mental Health of America Georgia in the battle against mental illness with the Move for Moms - 5K run, taking place Sunday, November 8th at 10a.m. in Piedmont Park. The race will help combat as well as bring awareness to pressing issues in maternal mental health, including perinatal mood and anxiety disorders, depression, anxiety and other symptoms. The cost to race is $30 for adults and $10 for kids. Registration begins at 8a.m. The event will be jam-packed with food and fun for the entire family, including games, raffles and giveaways. Sponsorships are available for interested parties. For further details, contact Janelle Petak at janelle@mhageorgia.org or call (678)-704-1972. enter link description here