Sun

Mon

Tue

Wed

Thu

Fri

Sat

November

November

1

2

3

4

CPT Coding Seminar

Atlanta Marriott Buckhead Hotel & Conference Center, Atlanta, GA, United States

The CPT coding seminar will be held on Friday, December 4th 2015 at the Atlanta Marriott Buckhead and Hotel Conference Center. This seminar will discuss the ICD-10 Coding Update and HIPAA compliance among other topics. 3 CEU Credits are available. To reserve your room, call Atlanta Marriott Buckhead Hotel Reservations at 1-888-855-7741 and ask for the Georgia OBGyn Room Block Rate no later than Monday, Nov. 3rd.

5

6

7

8

3rd Annual Breastfeeding Expo

2300 Hwy 138 SE, Clayton County, GA, United States

The 3rd Annual Breastfeeding Expo, sponsored by The Clayton County Board of Health, takes set Tuesday, December 8th from 8a.m. - 5p.m. at Clayton County International Park, located at 2300 Hwy 138 SE in Jonesboro, GA. All health/medical professionals and advisers, including WIC peer counselors and public health nurses are encouraged to attend. The event will feature guest speaker, Brandi Gates, IBCLC and include an array of breastfeeding simulations, workshops and discussions.

9

10

11

12

13

14

15

16

17

18

19

20

21

22

23

24

25

26

27

28

29

30

31

January

January
Save The Dates
GOGS' comprehensive list of education and events for ObGyns from around the state of Georgia.
1
1

ICD-10 Transition Webinars from GA DCH
The Georgia Department of Community Health is offering webinars to help practices transition to ICD-10. The deadline to implement ICD-10 coding is October 1, 2015. Take advantage of the additional time to practice the new code set, educate staff and ensure total preparedness. Register today for upcoming webinars to prepare for all that ICD-10 entails.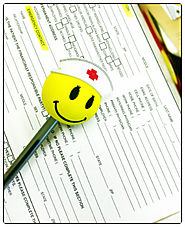 CPT Coding Seminar
The CPT Coding Seminar will take set Friday, December 4th at The Atlanta Marriott Buckhead Hotel & Conference Center, located at 3405 Lenox Rd, NE
Atlanta, GA 30326.
3
3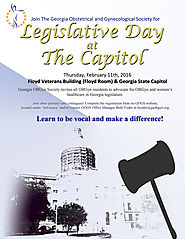 Legislative Day at The Capitol
Legislative Day at The Capitol is scheduled for Thursday, February 11th, 2016. All physicians are encouraged to attend. To learn more about the event and to express interest in involvement, click here.
4
4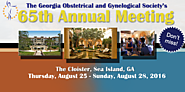 GOGS 2016 Annual Meeting is to take place Thursday, August 25 - Sunday, August 28, 2016, at The Cloister, Sea Island, GA. Registration requests and/or general inquiries can be directed to Beth Yoder at byoder@gaobgyn.org.
5
5
Move for Moms 2015 - 5K Race
Join Mental Health of America Georgia in the battle against mental illness with the Move for Moms - 5K run, taking place Sunday, November 8th at 10a.m. in Piedmont Park. The race will help combat as well as bring awareness to pressing issues in maternal mental health, including perinatal mood and anxiety disorders, depression, anxiety and other symptoms. The cost to race is $30 for adults and $10 for kids. Registration begins at 8a.m. The event will be jam-packed with food and fun for the entire family, including games, raffles and giveaways. Sponsorships are available for interested parties. For further details, contact Janelle Petak at janelle@mhageorgia.org or call (678)-704-1972. enter link description here
6
6

Endometriosis Worldwide March
The 2nd Annual Worldwide Endo March will spring into action, March 19th, 2016. This walk is bent on the purpose and mission of advocating world-wide awareness of endometriosis, from potential preventative therapies to public education and collaboration with medical schools and societies for endometriosis-founded training programs. For more information on the march and mission, visit site.
7
7
Medical Practice Profit Drivers Courses - Columbus, Valdosta, Albany
Medical Practice Profit Drivers, a developmental program offered from the Medical Practice Management Program at the University of Georgia Small Business Development Center is offering specialized courses Tuesday, November 10th - Thursday, November 12th at specific Columbus, Valdosta and Albany locations. Offered classes are designed for practice-owners and medical practice managers, providing key performance indicators, medical benchmarking data, compensation strategies and more. Cost for the class is $49. The deadline for registration is Friday, November 6th.Visit Georgiasbdc.org.
8
8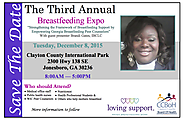 The 3rd Annual Breastfeeding Expo
The 3rd Annual Breastfeeding Expo will kick into gear on Tuesday, December 8th from 8a.m.-5p.m. at Clayton County International Park in Jonesboro, GA. This event will include an array of breastfeeding workshops and discussions for new and expecting mothers. Health and medical professionals from all across the state are invited to attend.